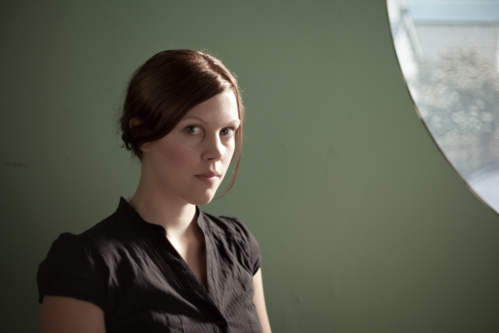 Amanda is passionated by cinema.
The Saami people are the indigenous from the North of the North, from Norway to Russia. In the Thirties, they were persecuted for their culture. We contact Amanda by videoconference. She is a 27 years old student on her last year of cinema school in Copenhagen, Danmark. For now, she is at her university where she will spend the night to finish a film mix of opera voice. She often smiles, running her intense look while telling the story from the roots to the fruits. She quietly speaks step by step, as if it is not about her but more about us who want to know something. Besides, if Amanda speaks Saami as "a three years old person," she speaks French surprisingly well, with a light accent.
Today, there is yoik slam in pubs
Traditionally, the
Saami
are reindeers herders and fishermen although many of them have joined the cities today. Amanda grew up in Northern Sweden, in Umeå. Her father is the founder-director of a large Saami culture festival «
the Saami Week
». He always wanted to claim this culture : «
For my father, the Saami culture is important. He always sent me to Yoik school or Saami Youth camps, etc.
» The Yoik is a guttural way to sing that was used for the communication from fields to fields, from mountains to mountains. In the festival created by her father, young people make traditional culture their own and Amanda is enthusiastic : «
I think it's great, they make yoik slam in pubs. They do battle among all and then, there is a final battle !
» When she was 17, Amanda even sang on a national radio. Today, she no longer sings because even if she loves the Yoik, «
it was an idea of my father, not mine
».
Find examples of Yoik below the article.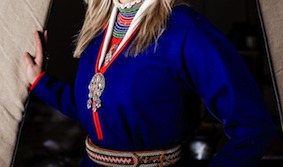 Kind of traditional Kolt from South Saami - Detail from photo : John Erling Utsi
I do not have a driving license, I have a dress !
On her 18th birthday, she asks for a traditional dress called Kolt instead of the driving license that all her friends ask for : «
It was the same price! So, I do not have a driving license, I have a dress, she concludes with a laugh. I come from the city, I do not need it. (...) In fact, I wanted a dress like that. Before, I wore my grandmother' sister dress. Normally, the family gives you a dress, but you do not make too many dresses for children because it is very expensive.
» In her family, her grandmother' sister and her father are very active. However, her grandmother is totally blocked on the subject. She even retains the same prejudices spread by the Swedish, at the time of the Saamis oppression. She says they are «
dirty and uncivilized
». To designate them, the Swedish called the Saami people
Lapps
. It is prejorative. The term
Lapp
is to the Saami people what
Eskimos
is to the Inuits and others indigenous people from the Arctic : it has been chosen by the outside.
Actually, the Saami population has been oppressed in the Thirties. That is why her grand-mother is still traumatised. Amanda explains : «
At that time, the Saami could not buy a house and had to go to special classes for Saami where they were not allowed to speak their own language, but were rather forced to speak Swedish. There were also racial biology experiments done on them to prove they were an inferior race.
» Amanda has worked at the
Skansen
museum in Stockholm. It is an open-air museum where vintage Swedish or Saami ways of live are shown. She realized there the importance of remembering : «
There were lots of families who came to see the Saami teepees. I have often heard children ask, " What is this? Who were living there ? " And the parents, the Swedish people, were answering : " That is the Vikings' ! " Ah no, this is not possible !
»
Since 2007, The Nordic Museum in Stockholm presents a permanent and relevant
exhibition
on the Saamis. In the middle of the exhibition, a small space with walls painted in black hosts videos of shattering testimonies about the persecutions of the Saami people.
Being an immigrant in her own country
Amanda is preparing a movie about the situation of Saami in the Thirties : «
I think it is important to make a film about it all. I've never seen a movie fiction on it so, it seems that it is vital. Of course, it is clear that it is also personal considering my grandmother. She can not even talk about what happened to her, she says she's Swedish and that it is "noble". When I see her, I see that this is a problem of an assimilation, a 100% assimilation.
» Her voice is calm, clear and deliberately released.
Her oppressed grandmother as those of her generation, has had to face the paradoxical situation of being the immigrant in her own country : «
At that time, you were forced to wear the traditional Saami clothing in order to show who was Saami and who was not. The language, the Yoik and also traditional songs were forbidden because it was the "devil".
»
Her grandmother remains mute from mutilation. She traveled extensively as a nurse and developed a still fierce hatred of the Saami people, her own culture. Her son, Amanda's father «
says a lot that the Saami week is for his mother. When she was little, she spoke the Saami language (...). With her mother, she only spoke Saami. Can you imagine
» ?
If you forget the person you are, where you come from, I think you'll be lost
Although Amanda was born as a Swedish girl, she has uprooted roots to claim. She feels solidarity with people without countries. She promotes pluralism and denounces excessive assimilation : «
If you come to Sweden, you will live in a camp for immigrants. You are okay if you're 100% Swedish, you talk the language, you have the same traditions, actually, when you behave like a Swedish. You'll see, it will be easier to get a job. (…) But at the same time, if you forget the person you are, where you come from, I think you'll be lost... It's like my grandmother, and I think my grandfather was also a little lost. It is not said that all Saamis have to work with reindeers, actually I do not believe it, but it is a big problem if you cannot have that part of you and have to forget it.
»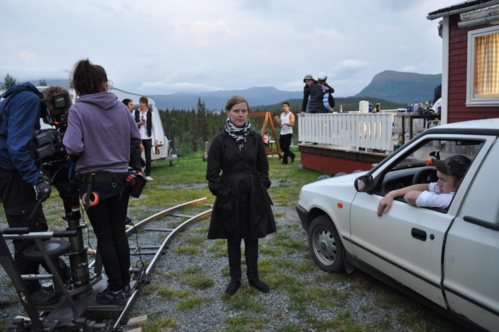 Her film project
The film about the Saami is not yet funded, but Amanda has already begun to work with a producer. Action! Amanda spends her nights dissecting the books, records, photographs about the Saamis conditions in the Thirties... The film is directly inspired by her grandmother. It will be called « Jag är en annan nu » - I am now another. This would be a fiction movie about a Saami teenager who flees to the city. Amanda hopes to start filming in the summer 2014, but nothing is certain. We feel that she is taking responsability for this mission and, actually, all responsability. Her large eyes tell of her determination to see, show and remember. She takes everything she says, without violence, with a soft self-confidence. She disappears. No more battery on her computer. She writes us a long email and goes to her work. As a perfume, Amanda left us the sensation of a promising meeting. As if this article was written from her oath.

Violette Goarant

South Saamis Yoik is called « vuollie » :
The North Saamis Yoik is the « louhti » :