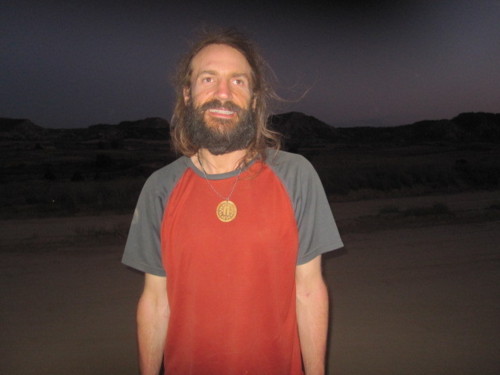 In the desert, around Zaragoza, rosemary is commonly grown. However, every year in early July, they plant instead, tents and marquees inflated by a strong winds and dust. On these fields, people collect art, music and colors. After searching for a quiet place, Dave sits at the entrance of the festival to tell the story.

The Burning Man festival has existed since 1986 in the United States and takes place the last week of August in the Black Rock Desert in Nevada. Last year, it received nearly 60,000 revelers and Dave has been part of it, for many years. Within Nowhere festival, Dave is considered a respected figure. Dyslexic, Dave stutters a little bit at the beginning of his sentences, listens carefully to the questions and responds in music with his elegant British accent.
The intense experience of Burning Man
« After Burning Man, we had parties that we called "Decompression" in London, a kind of after-party for Burning Man. There were 70 of us, at the two day long events. When you go to Burning Man it's a really intense experience, you need to readjust back into the real world. » Dave remembers when, in late 2003, the dream came out : « We said : "Someone should do something like Burning Man in Europe ... Why do we travel 13,000 miles for all the madness we have here? Yes, someone should really ... Oh well, it would be us!" » smiles Dave.

Thus in 2004, 35 people came to live in a desert, near Zaragoza in Spain. The desert is seen as a blank page on which we draw, we project, we impregnate ... The following year, and the name "Nowhere" came about : Going Nowhere… And now the festival grows more and more. The festival evolved over the years regarding the number of participants, but still is in Spain, and always in the desert. In 2012, it reached almost a thousand participants.
A blank camp available
The growing importance of the festival asks a larger question : « Everything is done by volunteers. We have no paid employees », Dave tells us. To oversee the organization, the founders created the company Nowhere which is « without employees. It's just a legal identity to sign contracts. We have permanency and we have a bank account in the name of Nowhere. »

Volunteers stay a month to help build common infrastructure such as the Gate, the Middle of Nowhere (a large marquee which hosts the majority of group activities), the Werkhaus (volunteers' camp) or the MaleFare (Security Center where volunteers take shifts). Volunteers are mainly English, French, German, Swiss German, Belgian and Scottish. According to Dave, the average age of the founders is around thirty, although volunteers range between 18 and 60 years old.

Dave's walkie-talkie, muted for the occasion, is whispering a piecemeal life of the festival, narrated by the voices of volunteers. How to explain this infatuation with a weeklong festival? Dave answered soberly: « For me, we work on the infrastructure, to just provide a kind of blank camp which becomes great with wonderful stuff. It is about full-filling the need of people to express themselves in the way they can't in regular society, you know. We create this space, so they can do stuff without being judged for it. »
The more you give, the more you get
To harmonize a state of mind favorable to this experience, a survival guide, printed in several languages is posted to the festivalgoers before the festival. It reports on precautions to take, the structures to know, and reminds people of common sense. For example, the "Leave No Trace" concept is very strong during the festival: leave no trace of human passage. It works to score another break with what is often common festival practice.

During the festival, people are shocked by waste thrown to the ground. It has its own name: the Moop (Matter Out Of Place). There is an activity organized midweek where festivalgoers, armed with buckets, hold hands in a line at the entrance of the festival. Then, on cue, like a conscientious and cheerful large rake of human being, they painstakingly comb through the festival by strolling to the other end.

The collective adventure is co-constructed with the extremely strong personal adventure. Dave says, pinching his arm from shyness: « It's always said the more that you put in, the more that you get out. Let's say: the more of yourself you give to Nowhere, the greater experience you'll have and the more rewarding it will be for you. »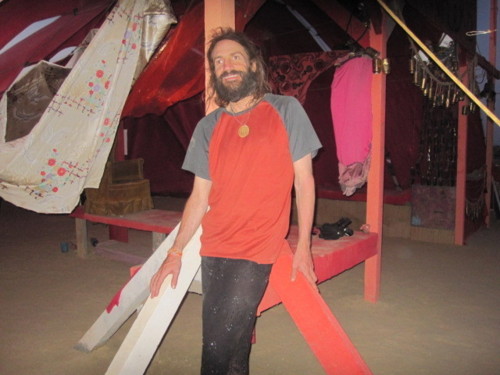 Be yourself
Speaking of creativity, "Nowhere" helps people who are sensitive to express themselves and can highlight the fragility of some. The festival becomes a place of personal quest, where relationships blossom with people instead of crashing, and the relationship to self takes shape as the light in sandstorms. The opinions of others that we have internalized no longer exist, we must reposition ourselves in a new society.

A novel experience, we accept the other as he is, without approval and without rejection. Marks are erased. Everything is about creating in recreation. The festival gives you the choice to be everybody you want, so ... Be yourself! Dave assures : « For some people coming here, there's a chance to be the real self. They no longer have to think of the outside, none of that is so important here, they are just themselves. (...) Lots of people say it's given them confidence to change their lives in many ways, for example many people quit their job after coming here. » How many? « More than I can remember. Probably some more this year. »

The example of Josh, a DJ at the festival who quit an office job, is emblematic. He was a regular festivalgoer, then he wanted to be more involved, and finally he became a board-member of "Nowhere". This year, Arkem, a children's entertainer, decided to enroll in an acting school for two years. Known to the community of "burners" (a term used for participants of Burning Man), this decision was vindicated, and applauded in his performances during the festival.

Between Metro and the desert, two lives are balancing
The power of the festival is therefore felt in the outside world too. Ideas are conveyed but Dave shakes his head when talking about politics: « Not interested in Politics here. We don't do politics because we don't care what your politics are, we don't talk politics really here, it doesn't matter, it's from the outside world. Here, you're free to be whatever you want. » But, if this is not political, it is at least a social critique, admits Dave.

According to Mathieu, most participants are computer scientists, photographers or work in communication (as a graphic designer, filmmaker, etc.). Louisa and Justin, from Paris, recognize « escaping the work pressure here. » They make the festival, and the community of "French-burners", a second life that is balanced with the first one. Working life makes this an artistic life. Some however make it their main life - those who would be considered outside of main stream society and they show it etched in their eyes or tattooed on their bodies. It results in people who are kissing in the desert and mistrusting in the subway.
A brilliant madness
Some children participate to Nowhere, under the full responsibility of their parents. Dave wants to welcome more children. It is true that there is an atmosphere of joy. Regardless of age, festivalgoers are seriously having fun in their extravagant colors. Madness is hailed as brilliant. Participants are all playful, patient and responsible. If children have their boat in their imagination when they have a piece of wood, at Nowhere festival, the boat is reality. The reality was made from an old caravan, with all the details dreamed up (a bar, a telescope, a mast, a treasure chest...). The looks of wonder and pride of the adults who built it, when pulled by a car made of ghetto blasters, conveyed the idea of the accomplished dream achieved.

Like many festivalgoers, Dave wears a necklace of wood which is engraved the logo of the festival. He has another hidden necklace, the same but smaller and metal. Dave acknowledges, tilting his head: « It saves a lot of us from dull uninteresting lives. It saves me from having a dull life and it makes my life more interesting. I still have a regular job, so I haven't, like a lot of people quit and changed my entire life but I spend a lot of my time, all year, working on this. »

Departure for the city is provided by the bus company called "Avant", which means "Before" in French... A return to the daily life of before, with a lingering thought coming out of Nowhere in mind. Dave smiles, before seizing his walkie-talkie: « I'm happy to see people coming to me for long time and saying "thank you, you changed my life" ».

Violette Goarant
Translator : Violette Goarant and Mark Gardner