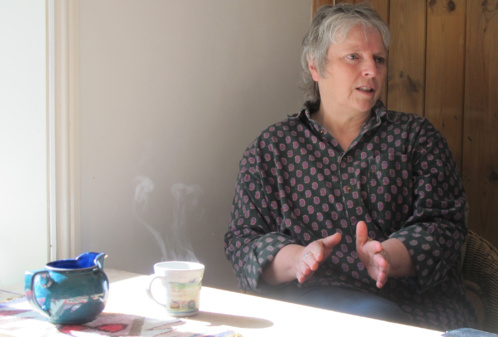 A wooden table with tea mugs and coffee cups, in a ray of light. The dogs wander around, barking before finally collapsing on the settee. Outside, the Northumberland countryside is peaceful, in harmony with the cosy atmosphere inside the old farmhouse where Julia and Romi are sitting in old wicker armchairs.

Julia Lyford was born in 1952 in suburban south London, then she studied theology at Bristol University. She could easily picture herself as a minister, advising, delivering sermons, listening... She found great interest in the social, psychological, philosophical approach of religious studies, except that in the early 70's, being a minister couldn't be considered for a woman. The alternative was teaching Scripture but it was... hell, she says now. In her secondary school, her 500 pupils filed in turn for their weekly 30 mn class : « What was the point ? I was then 22, I got fed up and decided to give up. »
From teaching Scripture to feminism
She became a youth worker in Sheffield just when Thatcher came to power for eleven and a half years. Political dissent became her new « religion ». Julia recalls the numerous figths : the long miners'strike, the demonstrations against the missiles in
Greenham Common
, the death of Republican Irish prisoners, the Falklands war...
Her political consciousness is rooted first and foremost in feminism. It originated in her reading of « Gyn/ecology » by Mary Daly. In an interview with What Is Enlightenment?Magazine ( EnlightenNext Magazine to day ), the theologian doesn't mince words :
"I don't think about men. I really don't care about them. I'm concerned with women's capacities, which have been infinitely diminished under patriarchy. Not that they've disappeared, but they've been made subliminal. I'm concerned with women enlarging our capacities, actualizing them. So that takes all my energy."
The birth of Frank, her second child, was a decisive turning point in her life. He couldn't walk at two, was very slow, clumsy, many things were a problem to him. It turns out and Frank is dyspraxic.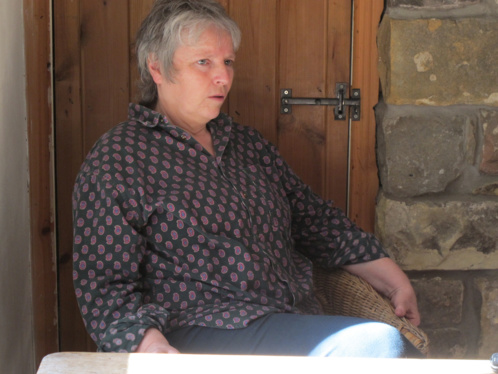 Mother and son: a common fight
Julia then engages in a long struggle. She looks for information in books..., comes across different
therapies, such as « the brush stroke therapy ». She manages to get specialized aids to help Frank during classes and also on the playground, a real nightmare for him. She is also confronted with other people's attitude, can't put up, year after year, with the same unhelpful school and medical reports, without the slightest practical offer or solution to support Frank's efforts. He is a very intuitive boy, yet nobody seems to notice or care : « When I realized there were different methods to learn, I felt I had to help him find his own way. »

The task was arduous but Julia's conviction was that getting her son out of his isolation meant changing other people's look and attitude, just as in the feminist fight : « Frank's arrival made me see the notion of identity from a different perspective. When you have a child labelled as « having barriers », learning difficulties, all sorts of questions arise like : « Who is the real Frank ? »

In fact, Frank was the one who first showed the way : aged 8 or 10, when laughed at for failing to lace his shoes or ride a bike, Frank would confidently retort : « That's because I' am dyspraxic. » It's from him that Julia learns how to live with the handicap : « There's so much we can do to help them be fully in control of their lives. »
Birth of the  SpLinter Group
From then on Julia has unfailingly stood at Frank's side in his fight to fully assert his difference. The first challenge was to help him reach out to others :
« Frank didn't see himself handicapped »,
she recalls tapping on the wooden table,
« his attitude has changed completely now that he's in touch with young people like him. It has helped him a lot. »
Frank is now 33. Julia Lyford has become aware that her son's friends feel uneasy. They are going through a transitional stage she says, they can no longer get the help they had as children but all the same there are not necessarily ready to live their adult life on their own. The reality is, she notices, that many end up in specialized or shelter homes while others just « vanish ».
« We set up the SpLinter Group in 2010 to give Frank and people like him the opportunity to express themselves, say what they want. »
Frank, Kirsty, Philip and the others, boys and girls, also want to share their experiences and their fight to become autonomous. They organize their own workshops to learn new things :
« We even hold conferences and have made three films to try to change things for the better. »,
you can read on their website.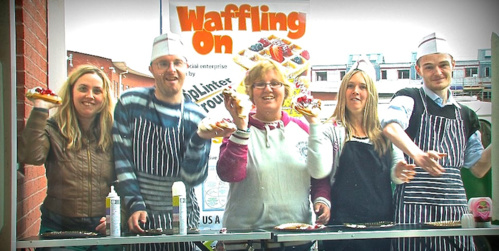 "They wanted to highlight their talents"
Indeed, organizing conferences is not a problem for the SpLinters. In november 2015, it was « From the horse's mouth » : in front of an 80 people's audience (parents, social workers, carers, employers…) they explained their daily struggle. They had invited three people to testify : a dyslexic chocolate-maker, the first mayor with learning difficulties and a dyspraxic writer-journalist. They also ran workshops to discuss autism, mental health … , what being different meant. They advised, made suggestions about how society could fully integrate them.
Their first step in this direction has been the launching of a waffles stand. The scheme is called "
Waffling On
". "Waffles" has an obvious meaning of course, "on" suggests moving, going forward, reaching out to engage in conversation thanks to a quiz made to smash clichés. "Waffling On" plans to travel from festivals to exhibitions in order to meet the general public and, why not, potential employers.
" They wanted to show what they were capable of, prove they were not stupid, especially to employers, as none of them has ever managed to keep a job ; they wanted to show them what they could achieve, highlight their talents. They left school with hardly any qualification, in spite of numerous repetitions so we've decided to give them one corresponding to O'Level, with a special emphasis on "doing" rather than "writing"."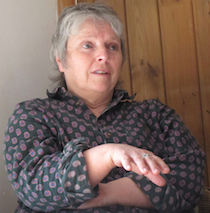 Give up? Impossible !
Frank and his friends manage their business on their own, do not hesitate to talk about themselves, explain what dyspraxia is, leading to a growing awareness that they have their own part to play. Latest project ? A "Pop Up Café" with an equipped truck to enable them to travel along the coast to sell waffles and drinks to holiday-makers, festival-goers …

The trouble is none of them can drive. Who can pass the test ? To find out they have just started holding an animation test with a driving simulator, open to other young people with learning difficulties.

Life carries on for the small group of dissenters, full of ideas, projects and … love stories. They are on the move, that is what matters as Julia says : "All their initiatives are rewarding, reflect a positive image of themselves and contribute to settle their own identity".

Julia is now retired but won't give up : "I just can't imagine not fighting. The problem is that of transmission, handing over to others. I can't stop unless I'm sure my hopes will be fulfilled".

Marie-Anne Divet
Traduit du français par Colette Rocher